Unconventional Guide to Remarkable Results
56 Ways to Skip the Mistakes and Take More Breaks
As a business owner, leader, and manager, you pride yourself on working hard. If you're honest with yourself, however, you probably tend to overcomplicate everything to do with your business, or perhaps you're enduring more daily drama than you envisioned when you first hung up your shingle.
The truth is that building, managing, and leading a business–with engaged employees, faithful customers, and loyal vendors– doesn't need to be difficult.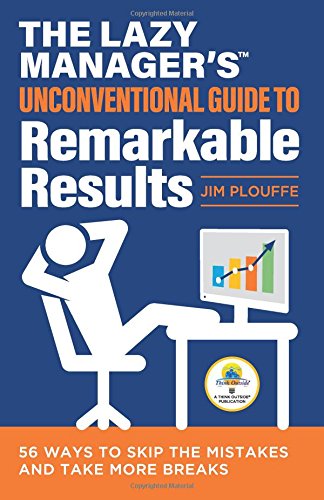 Business consultant and professional speaker Jim Plouffe proudly claims the title of being the Original Lazy Manager. In this book, he reveals how you can use his strategies to create remarkable results with less effort than you've ever thought possible.
From change, communication, and self-motivation to goals and sales and marketing, The Lazy Manager's Unconventional Guide to Remarkable Results helps you answer the hard questions that will simplify your decisions, your actions, your life, and your business.
Business success isn't about lazy thinking, lazy action, or hiring lazy people. It's about focusing on what matters–making a profit, making a difference, and having fun. Join Jim Plouffe on his journey into simple, easy, and practical ways to run your business, and find out how energizing it can be to become a lazy manager, too.